2009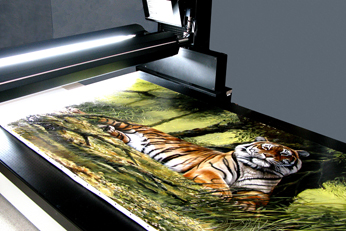 December 2009 / Art Petrus - New direction
From December 2009 Art Petrus is specializing in the scanning of art collections, printing of limited editions and replacement reproductions for Museums, Galleries, Archives, Collectors and Artists.
November 2009 / Slovak National Museum
The new transportable scanner was immediately reserved by the Slovak National Museum in joint collaboration with the Museum of Jewish Culture in Bratislava. Ancient paintings from partner museums and castles all over the country were brought to the Slovak National Museum to be digitized to the highest quality. The collection consisted of a selection of the most important personalities in Slovak history. Personalities like Maria Theresa, Archduchess of Austria, Queen of Hungary and Bohemia and her husband Francis I are just examples of the valuable works of art digitized during this first project.
See video on YouTube
September 2009 / CRUSE Transportable Museum Scanner
Art Petrus is proud to announce the acquisition of world's largest Transportable Cruse Scanner (3 x 1.8 m). The scanner has been installed at our new European Scanning Services facility in Bratislava, Slovakia. This scanner has been specifically acquired to reinforce our capabilities and allow us to scan valuable art collections on site for Museums, Galleries, Collectors, and Artists. During the scanning process no contact is made with the originals and furthermore texture and deep shadow details are captured perfectly. The scanner can be booked for the scanning of art collections all across Europe!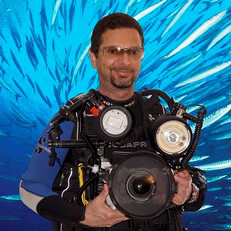 August 2009 / Photographic exhibition Jean-Michel Mille
The Galerie des Pecheurs was splendidly decorated with the photographic exhibition "Joyaux de Mediterranee" by underwater photographer Jean-Michel Mille. Art Petrus worked close together with Jean-Michelle in the scanning, printing and mounting of the large format photographs for his exhibition.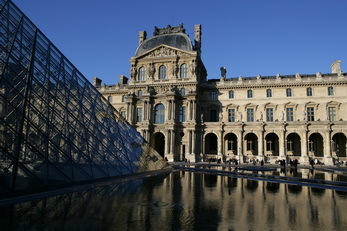 June 2009 / Visit from RMN
Art Petrus was honored by a visit Art Petrus and the Reunion des Musees Nationaux (RMN) organized a two day meeting to exchange their views on digital imaging technologies. RMN represents 33 major museums in France including the Louvre, Musee d'Orsay, Musee Picasso and many more. The main discussion point was the benefits of digitization of art collections using high fidelity scanners. We compared the use of Cruse scanners with other digital imaging technologies.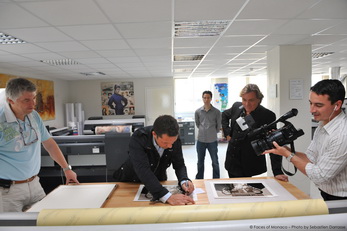 May 2009 / Visit from Olivier Picasso and Otto Kern
It was our pleasure to welcome Olivier Picasso and Otto Kern in our Fontvieille studio for a discussion on art. Both gentlemen, being the true art appreciators and collectors, were curious to discover and understand the advantages of scanning their collections by using Art Petrus' Museum Transportable scanner. Their faces lit up as we unfolded the many possibilities of high fidelity scans for archiving purposes and for the production of limited editions of their collections.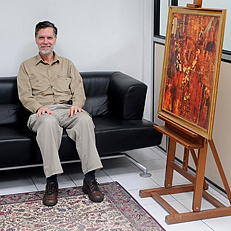 April 2009 / Visit from FLAAR
Art Petrus was honored by a visit from Dr. Nicholas Hellmutt, director of FLAAR, world authority in Digital Imaging. His three day visit focused on evaluation of our new Digital Master Reproduction and Digital Master Print standards. Art Petrus enjoys a close relationship with FLAAR and both organizations regularly exchange their knowledge in the areas of large format scanning, high-end art reproduction and large format printing. Visit www.flaar.org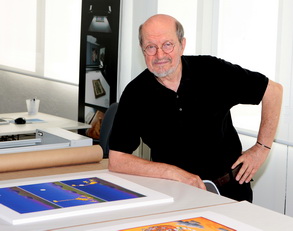 April 2009 / Limited editions by Mordillo
After months and months of meticulous preparation, Art Petrus produces the first ever set of 6 art reproductions for Guillermo Mordillo, one of the world's most famous creator of cartoons and animations. Each of the 6 reproductions is released worldwide in a Limited Edition of 200 pieces and represents exceptional quality and value. Art Petrus used its Digital Master Reproduction standard (see details on our website), utilizing high fidelity scanning at 600ppi (48bit) and printing with 12 color pigment inks on Hahnemühle Museum Etching, which is without doubt one of the world's finest papers. And comment of the artist? "It is for the first time in my career I experienced such perfection and competence"…
Visit www.mordilllocollection.com for more…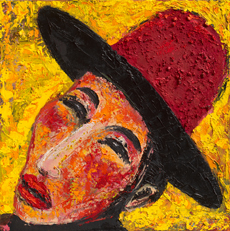 April 2009 / Paintings of Jean-Pierre Chebassier
Parisian artist Jean-Pierre Chebassier is well known for his special way of documenting ethnic diversity of today's world. His vision of globalization has inspired him to produce a formidable fresco of more than 100 portraits of mankind. To express sensuality and sensitivity, he uses strengths and power of natural materials like pigments, oil, soil, sand, leafs, cotton, wood and other material linked to the work's subject. One can therefore imagine the challenge in capturing such a diversity of materials and pigments allowing to produce high fidelity images suitable for first class art reproduction. Canson (France), who is working with the artists, has awarded this task to Art Petrus. Each painting is faithfully "documented" in a 1Gb file containing the finest details, deep texture, shadows and color. When printed on Canson's latest Infinity range of paper, the results are nothing less than stunning.
April 2009 / Secret d'écorces, photographic exhibition by Cédric Pollet
Cédric Pollet is an agricultural engineer and photographer traveling the world capturing the most incredible images of trees and their barks. He tells us;" Trees are a universal symbol of the strength, beauty and perfection of nature. Bark is a very vital part of the tree and certainly deserves to be better known". Art Petrus prepared and printed on the finest cotton art papers photographs from Cédric's latest travel to Los Angeles, Honolulu and surroundings. And we can tell you that the colors and textures are just amazing! Cédric Pollet will be exhibiting his collection at the Centre Culturel du Lavandou (Var) from the 7th of May till the 1st of June 2009. Secret d'écorces is an exhibition worth visiting!
www.artsylva.com
April 2009 / Rai Herz photography at CLUBARTE Frankfurt, Germany
Art Petrus has been working in close cooperation with the photographer, Rai Herz, in the production of his latest photographic exhibition. The collection can be admired in May at CLUBARTE Frankfurt, Germany. Rai has a special feeling for aesthetics and specialized over the years in erotic photography. The expression of inner beauty and sexuality are his skill. All photographs are printed on gloss art paper showing shadows and the most intrigue details of Rai's work.
www.raiherz.com
March 2009 / Art Petrus, The Wizard of Art - Monaco Economy
There are no more than five reproduction workshops in Europe that are as sophisticated, accurate and reliable as Art Petrus in Monaco. For three years now, the com¬pany has offered high-tech digitisation and printing solutions and services for museums, galleries, artists and collectors in the district of Fontvieille.
Download the article
March 2009 / Art Petrus at Foire Internationale de Nice 2009
Art Petrus is presenting its scanning and printing services from the 7th till the 16th of March 2009 on the Espace Art of the "Foire Internationale de Nice".
January 2009 / Nos Montagnes...
It was a pleasure for Art Petrus to work together with photographer Jean Charles Vinaj in the preparation of the photographic exhibition "Nos Montagnes…" for the "Fondation Prince Albert II de Monaco". Art Petrus printed the large format photographs representing the nuances of the mountains and environment of "Parc Le Mercantour". The exhibition takes place from the 28th of January till the 31st of May 2009 at the "Galerie des Pêcheurs Monaco".